Merrick Bank
CREDIT CARDS
Since its founding in 1997, Merrick Bank has been known as one of the top issuers of VISA credit cards in the United States. In addition to more than three million cardholders throughout the country, Merrick Bank has extended these consumers more than $5.3 billion in credit. To go along with its popular VISA credit cards – including the Platinum Visa and Secured Visa – Merrick Bank provides consumers with a variety of other products and services, such as RV and boat loans, personal loans, and certificates of deposit.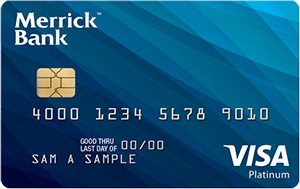 Initial deposits can be from $200 to $3,000
Credit Recommended See website for Details*
Regular Purchase APR 17.45% Variable
Annual Fee $36 for first year. Billed $3 per month thereafter
Highlights
Choose your own credit line based on how much money you want to put down as a security deposit.
Initial deposits can be from $200 to $3,000. You can increase your credit line at any time by adding additional money to your security deposit, up to $3,000.
After 9 months, we review your account for a credit line increase. No additional deposit required!
Secured Credit Cards are great for people looking to build or rebuild credit and are available to people with all kinds of credit backgrounds.
Unlike a debit card or a pre-paid card, it helps build your credit history. As you pay your bill every month, we report to all three major credit-reporting agencies.
Get 100% U.S.-based customer service & get your FICO® Credit Score for free each month.
Fraud coverage if your card is lost or stolen. Access your account 24 hours a day, 7 days a week. Get help staying on track with Auto Pay and account alerts.
Card issued by Merrick Bank, Member FDIC.
Specifications
| | |
| --- | --- |
| Intro (Purchases) | N/A |
| Intro (Transfers) | N/A |
| Regular APR | 17.45% Variable |
| Annual Fee | $36 for first year. Billed $3 per month thereafter |
| Credit Recommended | See website for Details* |
| Cash Advance APR | 22.45% Variable |
| Cash Advance Fee | 4% Min: $10 |
| Cash Grace Period | N/A |
| Late Payment Fee | Up to $40 |
| Overlimit Fee | N/A |
| Return Check Fee | Up to $40 |
| Foreign Trans Fee | 2% |
| Balance Transfer Fee | N/A |