Upgrade
CREDIT CARDS
If you're interested in a non-traditional credit card that gives you the power to borrow money and repay it in a reasonable manner, the Upgrade Card may be the right choice. It's convenient, the interest rate is more than competitive, and the fixed payment structure has the potential to save you hundreds or even thousands in interest charges.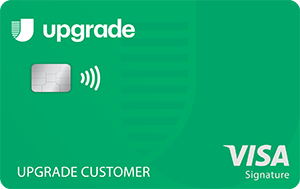 Credit lines from $500 to $20,000*
Credit Recommended Fair,Good,Excellent
Regular Purchase APR 6.99%-29.99% APR
Highlights
Combine the flexibility of a card with the low cost and predictability of a loan
$0 fees – $0 annual fee, $0 activation fees, $0 maintenance fees
No touch payments with contactless technology built in
See if you qualify in minutes without hurting your credit score
Access to a virtual card while you wait for your card to arrive in the mail
Great for large purchases with predictable payments you can budget for
Mobile app to access your account anytime, anywhere
Enjoy peace of mind with $0 Fraud liability
* Credit Lines opened through Upgrade feature APRs of 6.99%-29.99% and line amounts ranging $500 – $50,000. The lowest rates require Autopay and the majority of the line amounts will be $20,000 or under. For example, a $5,000 transaction with a 36 month term and a 19.99% APR has a required monthly payment of $187.90. The APR on your draw may be higher or lower. Your rate, line amount, and default term depend on maintaining a qualifying credit score, your credit usage history, requested amount, and other factors.
Specifications
| | |
| --- | --- |
| Intro (Purchases) | n/a |
| Intro (Transfers) | n/a |
| Regular APR | 6.99%-29.99% APR |
| Annual Fee | 0.00 |
| Credit Recommended | Fair,Good,Excellent |
| Cash Advance APR | n/a |
| Cash Advance Fee | n/a |
| Cash Grace Period | n/a |
| Late Payment Fee | 0.00 |
| Overlimit Fee | n/a |
| Return Check Fee | 0.00 |
| Foreign Trans Fee | 0.00 |
| Balance Transfer Fee | 0.00 |